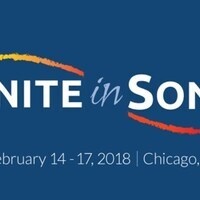 ACDA Central & North Central Division Conference
This conference is one of the biggest events that are put on by ACDA, and it would be awesome to bring as many people to it as we can! This conference is featuring 4 Honor Choirs, 20 Interest Sessions, 16 Auditioned Choirs, 12 Reading Sessions, a Research Poster Session, Exhibits, Vendors, and much more! Headline performers are Chicago a cappella, the Santa Fe Desert Chorale, and the Shenzhen Golden Bell Youth Choir.
ACDA Members are also encouraged to join the Collegiate Repertoire Choir. Led by guest conductor Dr. René Clausen, we will get a packet of 6-8 diverse choral pieces and have the opportunity to attend two rehearsal sessions (Friday, February 16, 12 – 1 pm, and 3:30 - 4:30 pm.) during the conference.
Wednesday, February 14, 2018 at 12:00pm to 1:00pm
Chicago, IL
Audience

Website
Subscribe