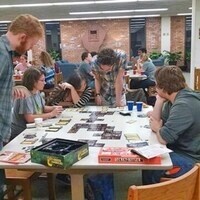 Game Night
Come have some fun at Game Night @ Briggs Library. Dozens of tabletop games will be on-hand such as Dixit, Codenames, Resistance, Small World, Cards Against Humanity, Odin's Ravens, Lost Cities, Magic the Gathering, Pandemic, Galaxy Trucker, Dominion, Betrayal at House on the Hill and Cash and Guns.
A Magic the Gathering Commander Tournament will take place at 7:00 p.m. with registration starting at 6:30 p.m. The Magic the Gathering Club is co-sponsoring this event.
The improv troupe Sports Team will be performing in the lower level of Briggs Library at 9:30 p.m.
Friday, March 23 at 6:00pm to 11:00pm
Briggs Library
Event Type

Audience

Website
Subscribe