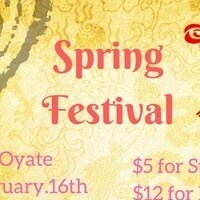 Spring Festival 2018
You are invited to Spring Festival, organized by the International Student Association. There will be performances and dinner served. Tickets are $5 for students, and $12 for staff and faculty. ISA will be tabling in the Student Center selling tickets, and you can also purchase your ticket online:
https://www.tickets.umn.edu/UMM/Online/
Spring Festival is the Lunar New Year which is celebrated in China, Taiwan, Singapore, Indonesia, Malaysia, Korea, Thailand, Vietnam, Cambodia, Mauritius, Australia, and the Philippines. In China often people celebrate Spring Festival with a family reunion dinner, people exchange gifts of money in red paper envelopes, they shoot fireworks, have public festivals, and they decorate their windows and doors with paper cuts that have themes of good fortune, happiness, wealth etc.
Similar to horoscopes, each lunar year has an animal attached to it that has a special significance. This is the year of the Dog. People born in the year of the Dog (1934, 1946, 1958, 1970, 1982, 1994, 2006, 2018), are said to be loyal, honest, and just.
We hope you can celebrate with us! Bring your friends and family!
Friday, February 16, 2018 at 6:00pm to 8:30pm
Morris
Event Type

Audience

Website
Cost

$5 students, $12 adult

Subscribe